An email marketing software is a tool that marketers use for email marketing. The software is used for a variety of reasons. These include both technical and business reasons.
For example, some business-related reasons are growing a list of email subscribers, promoting your products/services to these subscribers, and providing valuable and helpful content. On the other hand, some technical-related reasons are designing and building customized email templates, segmenting the list, and tracking. 
The purpose of using email marketing software goes beyond simply sending emails. It should allow you to develop relationships with your prospects and customers while achieving your business goals.
Below are some key features your email marketing software should be able to do.
5 Key Features of Email Marketing Software for 2021
Apart from the ability to create, format, and send an email, these five key features are the minimum features your email marketing software should have. Why?
It's 2021 already. The market changes so rapidly that if you don't have these "basic" features, you're being short-changed. You're already losing. It's like using floppy disks when everyone else is using 2T hard drives.
Feature #1: Segmentation
This feature has got to be at the top of the must-have's. The ability to segment lists is the one feature that can make or break your email marketing.
I won't get into the details here. You can read it in my other post.
A short summary is this: segmenting your list gives you the ability to sent relevant content. It also guarantees you don't send irrelevant content.

I've used this example a lot. It's so simple yet very few organizations do this.
If you're a pet store, you can easily group your prospects and customer list into 3 broad segments — dog owners, cat owners, others.
If you have those segments, when you send dog-related content, you only send to dog owners. After all, if they are cat owners, why would they care about dogs, right? If you send to everyone in your list — which is one of the ineffective email marketing tactics today — you're simply sending irrelevant content.
Feature #2: Track and Analyze Performance
Digital marketing allows you to track almost everything. Tracking and analyzing performance is crucial if you want to stop wasting resources.
Your chosen email marketing software should allow you to track and analyze the performance of your email marketing activities — at least. Some advanced softwares allow you to connect your eCommerce store — where you can see how much revenues your campaigns and specific emails brought you.
Some basic metrics are the open rates and click-through rates of your emails.
A high-level overview of the two metrics and how you use them is this:
Open rate
Open rate is the % of people who opened your email. It is calculated as number of opens divided by total emails delivered.
The higher your open rate is, the more people viewed the content of your email.
PS: This is one of the vanity metrics you should stop obsessing on though. I'll discuss more about this in another artilcle.
Click-through rate
Click-through rate (CTR) is the % of people who clicked on a link in your email. It is calculated by the number of clicks divided by the total opens.
The higher your CTR is, the more people are taking action on your email.
Feature 3: A/B Test
The ability to A/B test is a very important feature. It allows you to move from "I think" to "I know." In other words, stop guessing.
When you use A/B tests, you determine which "variable" is better. There are, of course, a lot of applications for this in other aspects of digital marketing.
But in email marketing, the most popular A/B test is the Subject Line test. That's where you test two (or more) subject lines.
Normally, the process for A/B testing goes like this:
Determine variable to test
Determine a metric to use
Determine percentage of audience to test
Determine time period to determine winner
Execute
So if you're doing the A/B test on a subject line, the thought-process goes like this:
I want to test the subject line. I'm going with just 2 combinations.
Since the content of my email is an announcement, I want more people to view it. So, the metric I'll use is the open rate.
I want to test the subject lines to 50% of my list.
I'll choose 4 hours
Send
What will happen here is that once you hit send, 50% of the 50% will receive the subject line 1 and the other 50% will receive the subject line 2.
After 4 hours, the email marketing software will see which subject line has a higher open rate. Then, it sends that subject line to the remaining 50%.
Feature 4: CRM Integration
Your email marketing software should integrate smoothly with your CRM software.
This is especially true for B2B and for those who focus sell high-ticket items where it's necessary to develop a real relationship with your customers (real estate, furniture, etc.).
For most organizations, the email marketing software acts as the master database. A CRM integration gives your salespeople the ability to see the bigger picture.
For example, if you're using HubSpot, you'll be able to see that contact's interaction/engagement history. This can give you a better understanding of the concerns of that lead.
Here's a specific example on one of the leads on my site. The person found me via LinkedIn. Then the lead subscribed to my newsletter on this specific page on my site.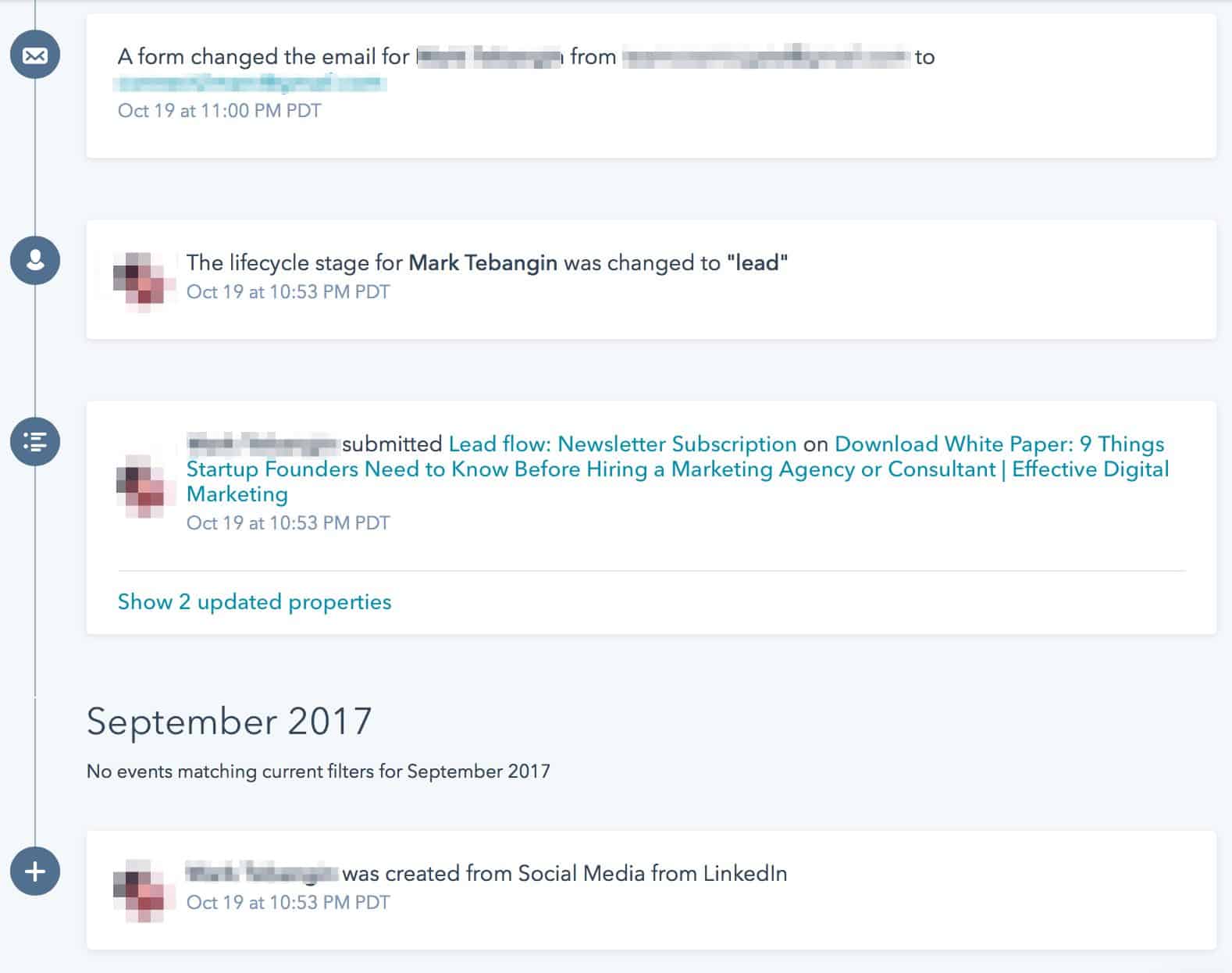 So, if you were the salesperson, you'd already have a starting point for your conversation. This will help you build rapport easily.
Feature 5: Automation
The last feature your email marketing software should have is the ability to make life easier for you. Email marketing automation is the process of automating activities you'd normally do yourself.
For example, sending a welcome email series to your new subscribers (like this one below).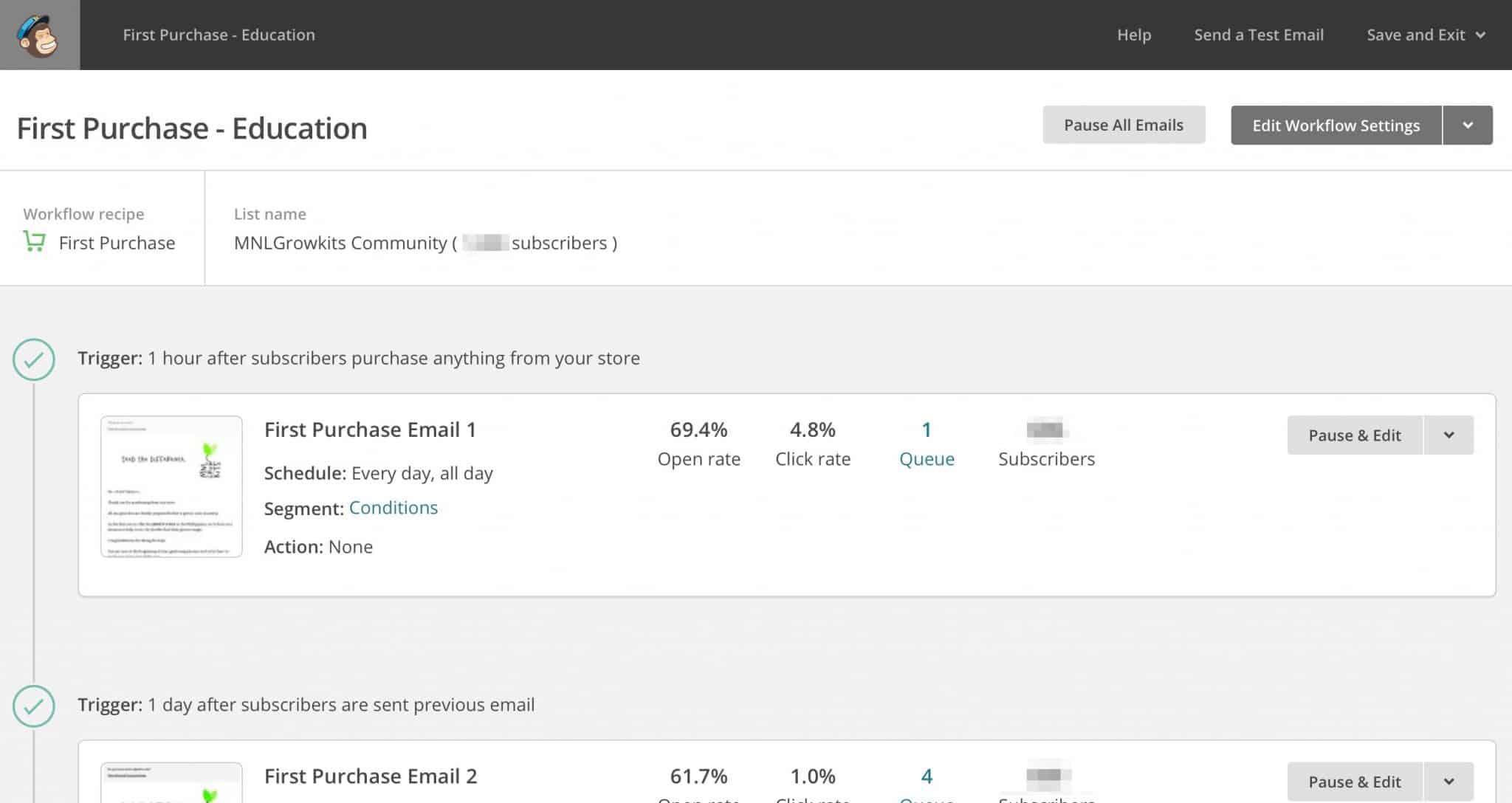 Or using auto-responders for action-based activities. For example, if you downloaded this case study, you'd get an email like this: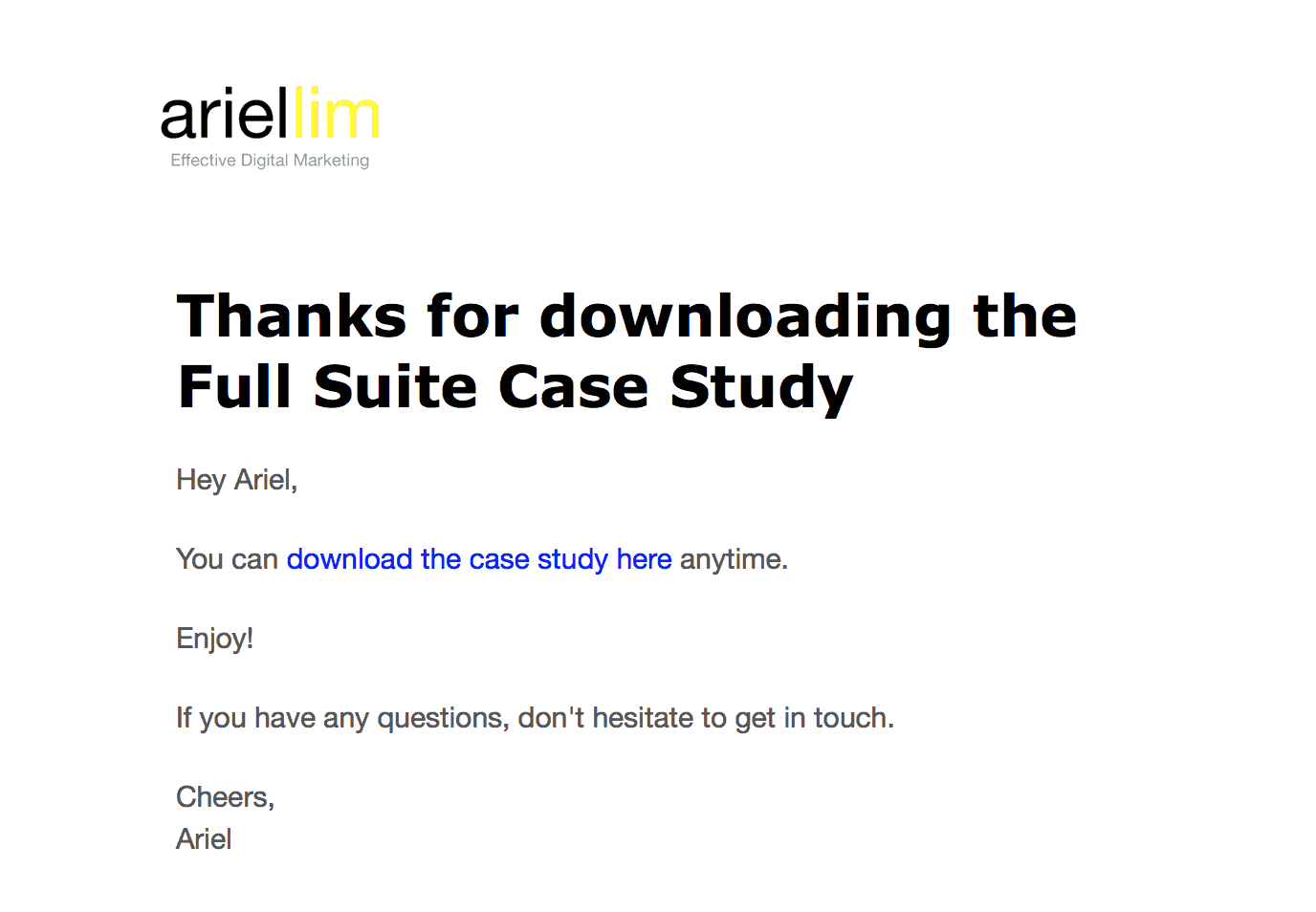 There are a lot of uses of automation. It really depends on how your organization is set up and what your goals are.
These are the 5 key features your email marketing software should have. If your current system don't have these, it's high time to start looking for a new software.
But if your organization is still not using email marketing and are looking for a software, you can start with these features. Afterall, email marketing gives you the highest ROI across any channel — including social media.