A few years ago, I worked with a manager who spent a lot of resources—time and manpower— developing a grand marketing plan in the form of a PowerPoint document.
After weeks of researching, compiling, and designing, the final marketing strategy document is a 150+ page PPT file.
It's chock full of market research, assumptions, the core pillars of the strategy, and many more.
Does this sound familiar?
Unfortunately, this is still a prevalent practice worldwide.
Unfortunate because it was a pointless exercise and waste of resources.
Was it necessary? Probably.
One thing I do know is that we never opened that PPT doc again in the coming months.
When it comes down to it, simple is always best.
There are various tools you can use to convey everything you need in that document. Here are four of the tools I wished I knew back then.
Business Model Canvas
The business model canvas is a strategic document that visually shows how an organization works in one page.
Business Model Canvas Explained
For most businesses, they equate this with a business plan.
In most cases, that full-pledged plan is unnecessary. Unless you're in the leagues of Apple, IBM, Walmart, and the like, you don't need a business plan.
Compared to doing nothing, a business plan is valuable. But realize that there are alternatives like the business model canvas.
Do You Need a Business Plan?
Perhaps the first question you need to answer is "what's the main goal you're trying to achieve with a business plan?"
Are you taking out a loan?
Are you planning to get investors?
Or are you simply trying to "plan" and think through your business?
I'd say 90% of the time for 90% of businesses, you don't need a business plan. All you need is a business model canvas and it'll have everything you need to think through for your business.
Written and Documented
If you're like the business leaders I've spoken with in the past, all you're trying to accomplish is having a written and documented plan for your business so you can easily communicate it with your team and other stakeholders.
The business model canvas can and will help you achieve those.
The best part is you can finish creating one this afternoon.
It gives you the flexibility to test, change, and document your entire business model.
Strategy Canvas
A strategy canvas is a one-page document from the Blue Ocean Strategy that visually represents your strategy against the industry (or selected competitors).
At its core, a strategy is a set of plans you do to achieve a certain goal. This includes both what you want to do and what not to do. Here's how it looks like: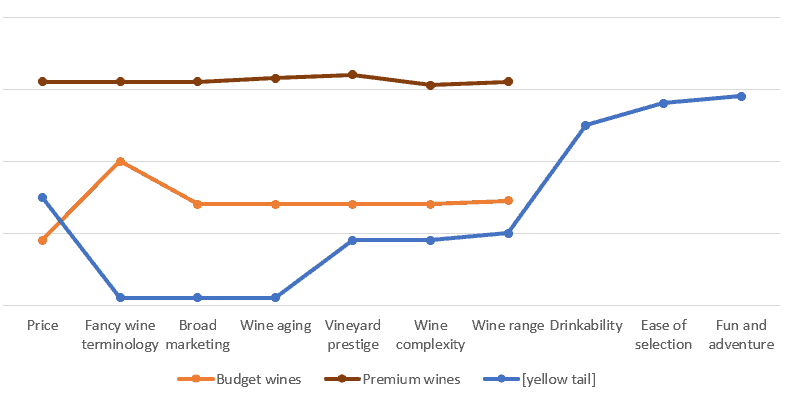 Whether as a company or a department, the strategy canvas allows you to capture the current state of play and serve as a baseline for change.
In the graphic above, [yellow tail]'s strategy is vastly different from both the premium and budget wines. In addition, instead of copying what they are doing, they identified factors where they will focus on and which ones to do less of.
Shared Terminologies List
This document might not be needed but this just makes sure you use the same vocabulary across the entire business.
For example, a standard term right now in marketing and sales is MQL and SQL.
Everyone know what they stand for: sales marketing qualified leads and sales qualified leads.
But without defining what they are, when to pass to the other department, or when they stay with one will only end up in chaos.
Often times, people try to sound smart by throwing around terms like these, but in reality, don't know what they are.
You can put this in a company wiki or in your onboarding manual. For example, a few months ago, I started creating my own playbook. I have a separate document there where I defined exactly what these important terms mean for my own consulting business.
Tracking Spreadsheet or Dashboard
The last document you need is a tracking spreadsheet or dashboard that includes the key performance indicators or KPIs. These are the ones that matter to your business.
Naturally, this will be different for each business as every one is unique.
You also don't need to include all the little metrics you can track.
Like the title in this post, keep it simple.
Manual or Automated
I recently had a conversation with a client regarding reporting on whether we should automate it or keep it as is (which is semi-manual where some parts are automated and some needs manual input).
The answer is whatever you need at the moment.
If you are starting, then spending time and resources building dashboards and automating the reports could have been time spent on actually implementing the strategies.
So as long as you can track these KPIs over time, using spreadsheets and updating them manually is not an issue. Don't spend too much time thinking about it.
Results only come from the outside. That means you should spend more time on implementing them rather than the admin side.
The True Purpose of Reporting
Why do you need reports? Is it so you can see the performance? Partly.
This may be the first time you're hearing this, but reporting isn't about the past. It's all about the future.
The real reason you look at reports is to influence what you'll do next. You look at the data that happened and use it to generate insights to make effective business decisions—which is all about the future.
The case for automated or real-time reporting supports this thinking.
But if you are starting an advertising campaign where you only spend a few hundred dollars a month to test the platform and get a "feel" for it, then investing an inordinate amount of time building and designing your dashboards won't do you any good.
Over to You
Simple is always better.
The more you complicate things by trying to sound smart, the less you actually accomplish.
Spend more time executing your plans, projects, and campaigns than creating fancy documents no one will ever read again.
The problem with multi-page business plans and strategies is that they are a one-and-done document. Today's business environment moves so fast that you need to use tools that are flexible and can adapt to the changes in the market.
The tools I shared like the business model canvas and the strategy canvas are all living documents that you can use to keep you focused but, at the same time, gives you the ability to move with the market.
What about you? Have you spent time building PPT documents only to never use them again? Or have you adapted to more modern ways to test, plan, and execute your strategies?
Either way, I'd love to know.