Most organizations think that email marketing is all about sending the newsletter. Did you know that there are 12 different types of marketing email you can send?
In this article, I'll go through all these 12 email marketing examples and present a way to categorize them:
But before we get started, I want to go through some preparatory points.
What you call a newsletter is actually one of the most ineffective marketing tactics marketers use today.
In this post, I'll be sharing 12 different types of marketing email you should be sending from your email marketing software.
Preparatory Points: Email Categorization
There are two broad categories of emails that you can send: one-to-many and one-to-one. This doesn't include personal/manual emails —like the ones you send to your customer or your boss.
One-to-many emails, sometimes called informational emails or campaign-specific emails, are types of email you send out to a lot of people. It's what you're probably most familiar with. Newsletters fall under this category of emails.
One-to-one emails are also called transactional emails. They are only sent after a certain action and/or behavior. A password reset request or an order confirmation from an e-commerce store are examples of transactional emails.
Now that that's out of the way, let's get started.
12 Different Types of Marketing Email
One-to-many Emails
1. Product/Service Update Email
A product/service update email is a type of email that 99% of organizations send out.
They (wrongly) call this a newsletter.
It's an email about their products/services. Most of the time, its main message is a sale or a promo. Sometimes, it's an update on features.
Here's a great example from OptimizePress, a WordPress page builder.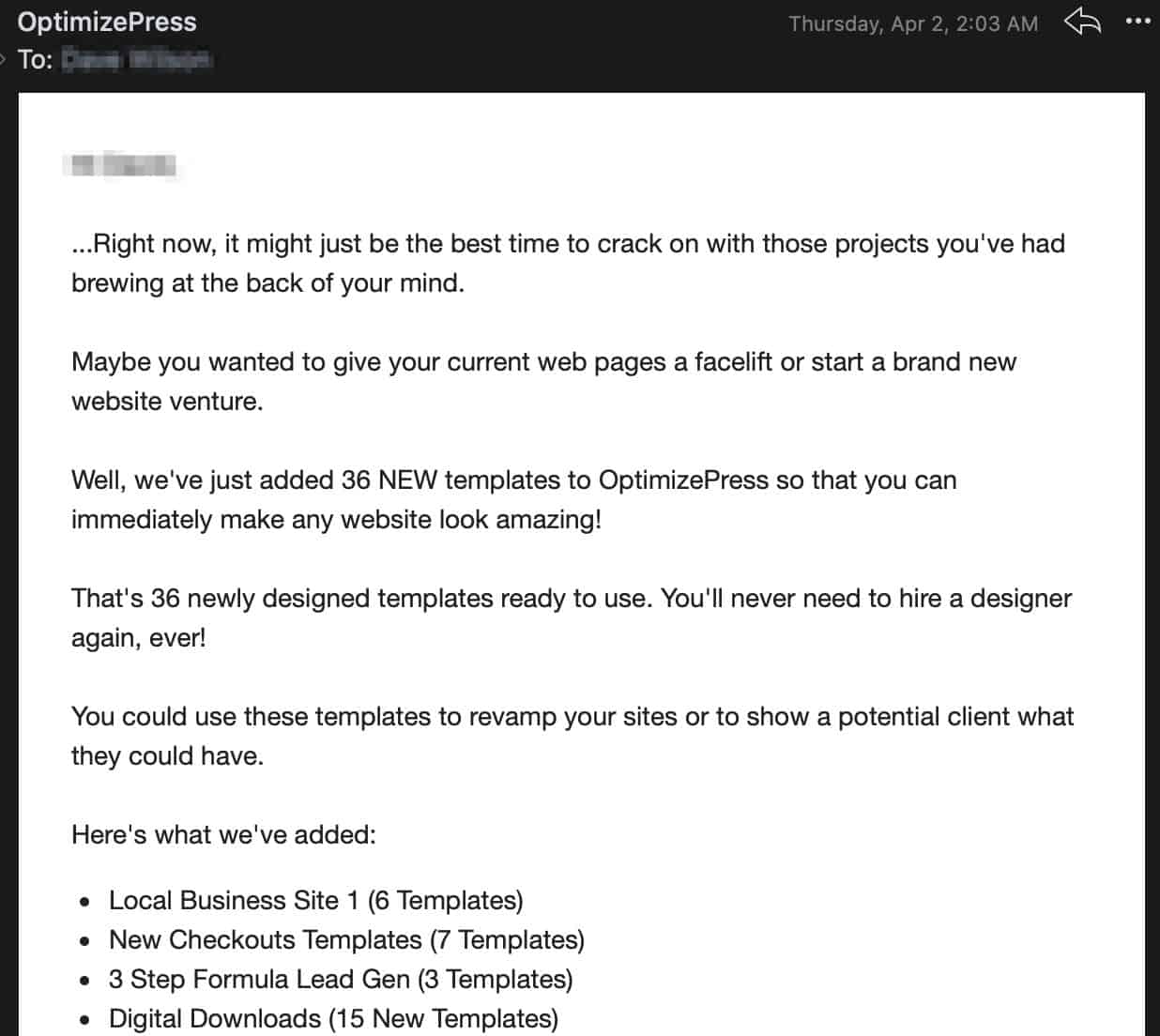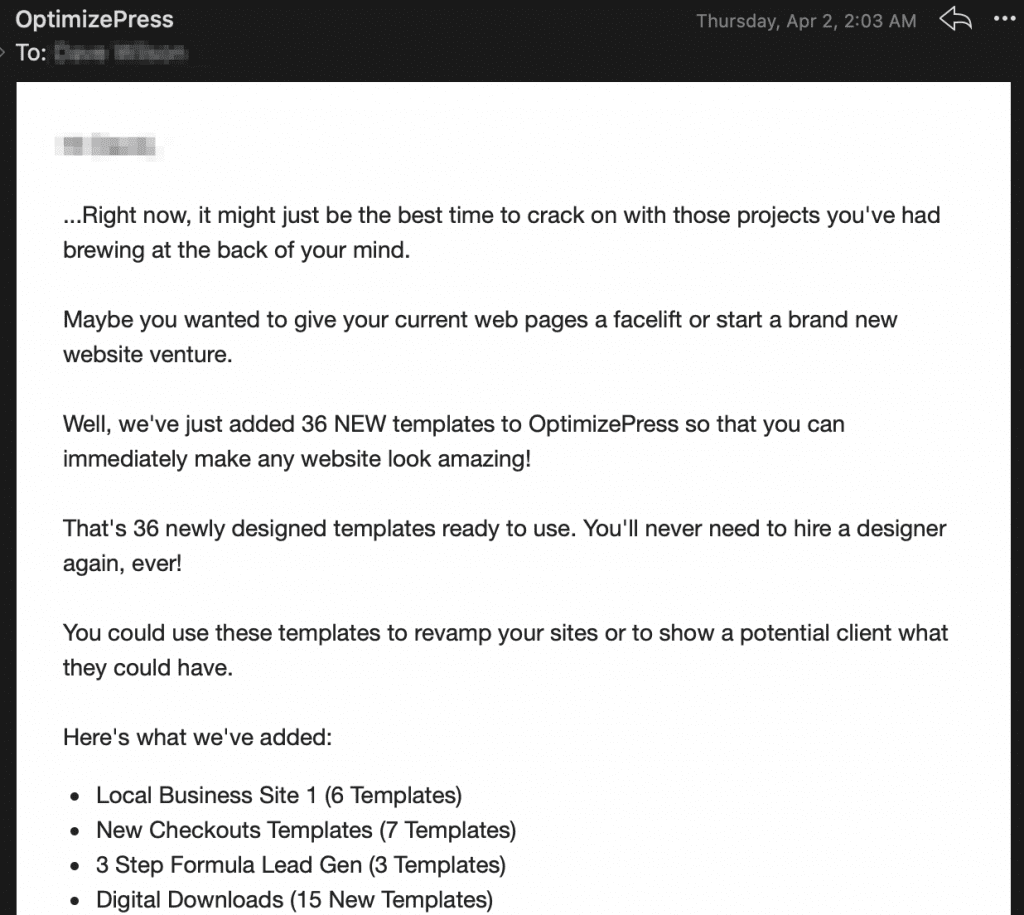 Promos such as Black Friday sale, Christmas and holiday sale, year-end-sales also fall under this category since it talks about your products and services.
Like I said in other posts, there's nothing wrong with it— unless it's the only type of email you are sending.
2. Newsletters
The newsletter is a roundup of your blog posts and/or curated content.
It is NOT an email for promotions.
Promotion of your blog posts, maybe. But not sales related.
It is educational in nature.
Newsletters are used to deliver content to your reader's inbox. For example, I am subscribed to the newsletters of WordStream, HubSpot, Jon Loomer, MailChimp, Copy Blogger, Close.io, and a whole lot more.
I subscribed to them because I want their content, WANT to read it. I look forward to it.
I learn from it.
Below's a great example from Influence & Co, a content marketing agency. Take note that everything you find inside adds value to the reader. Click on the image to view a larger version.
If your readers are not excited about reading your newsletters, then most probably they are not educational content.
So. Please. Stop. Calling. Them. Newsletters.
I talked more about this issue here.
3. New Content Announcement Email
The content announcement email is an email that I have not seen a lot of companies do.
It's an email you send that invites them to download and/or access the new content you just created.
For example, here's one from WP Engine, one of the most well-known WordPress hosting.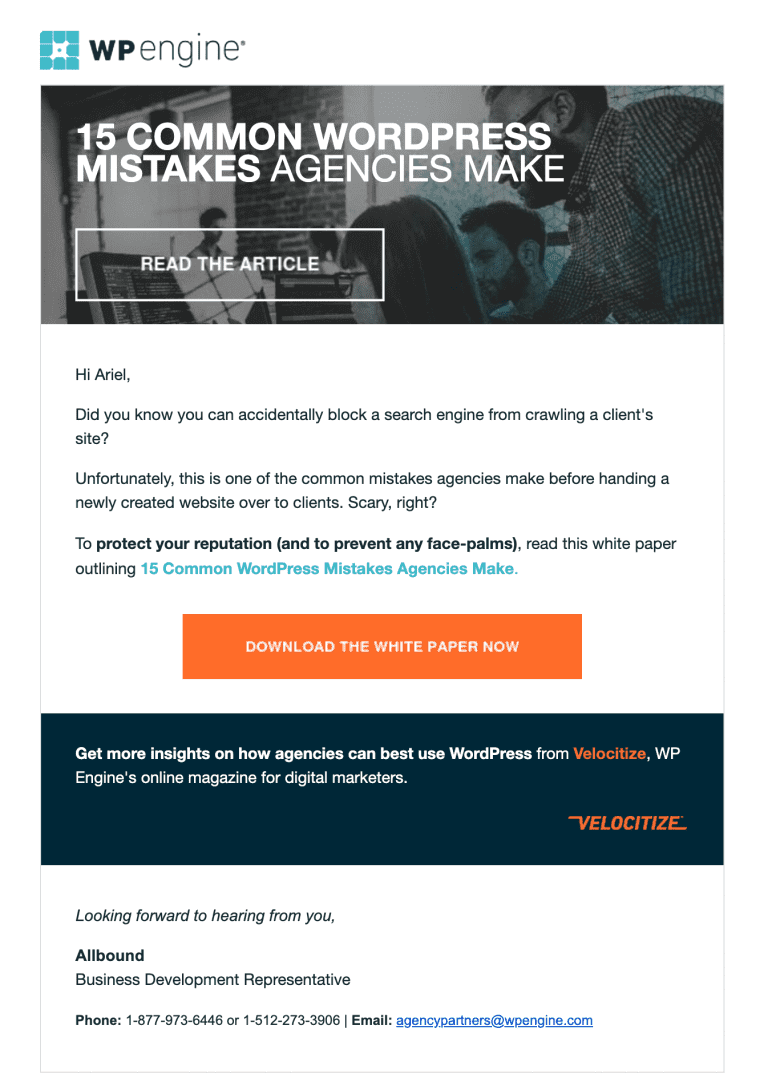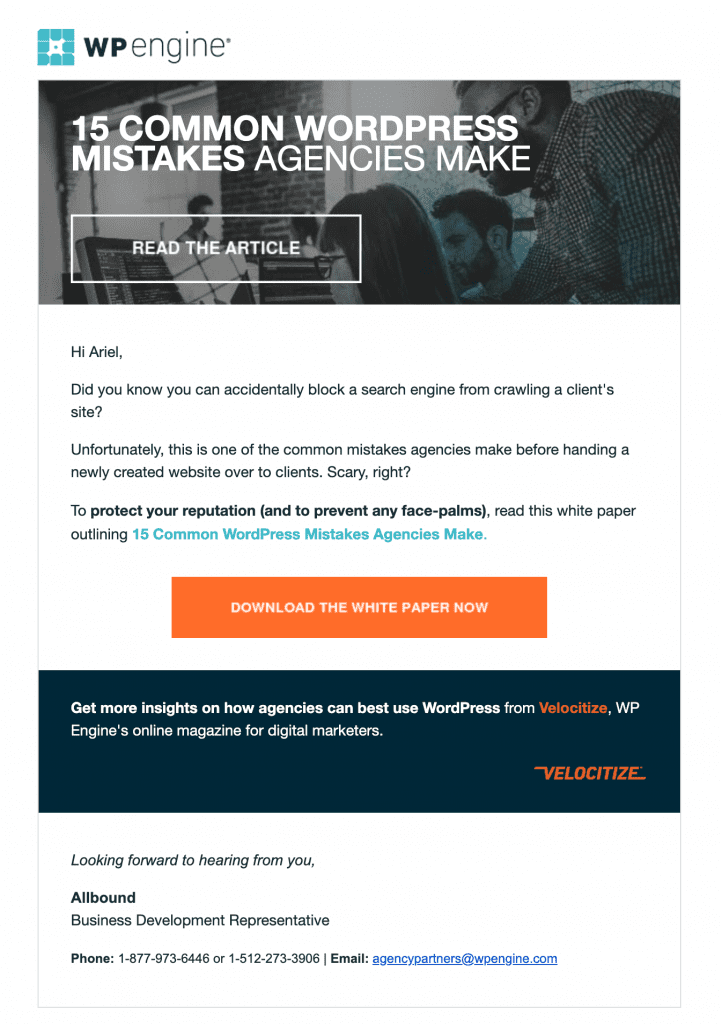 The link above is an affiliate link. At no additional cost to you, I will earn a commission if you decide to make a purchase after clicking through the link.
Content, in this case, is a "big piece" of content. It's not a regular blog post or article. It is something more significant.
They are examples of marketing offers or lead magnets. Something most companies aren't using.
4. Event Invitation
As the name suggests, this type of email is an invitation to an event. It's usually a one-time send; but for those who engaged, i.e. pre-registered to the event, they get sent more information about the event.
For example, you might announce a webinar to your mailing list. From there, those who register get reminder emails on the day of the webinar, 1-hour before, and 15-minutes before the actual webinar.
Here's how that may look like. This series came from a webinar I recently attended by CopyBlogger.
Example: Webinar invite email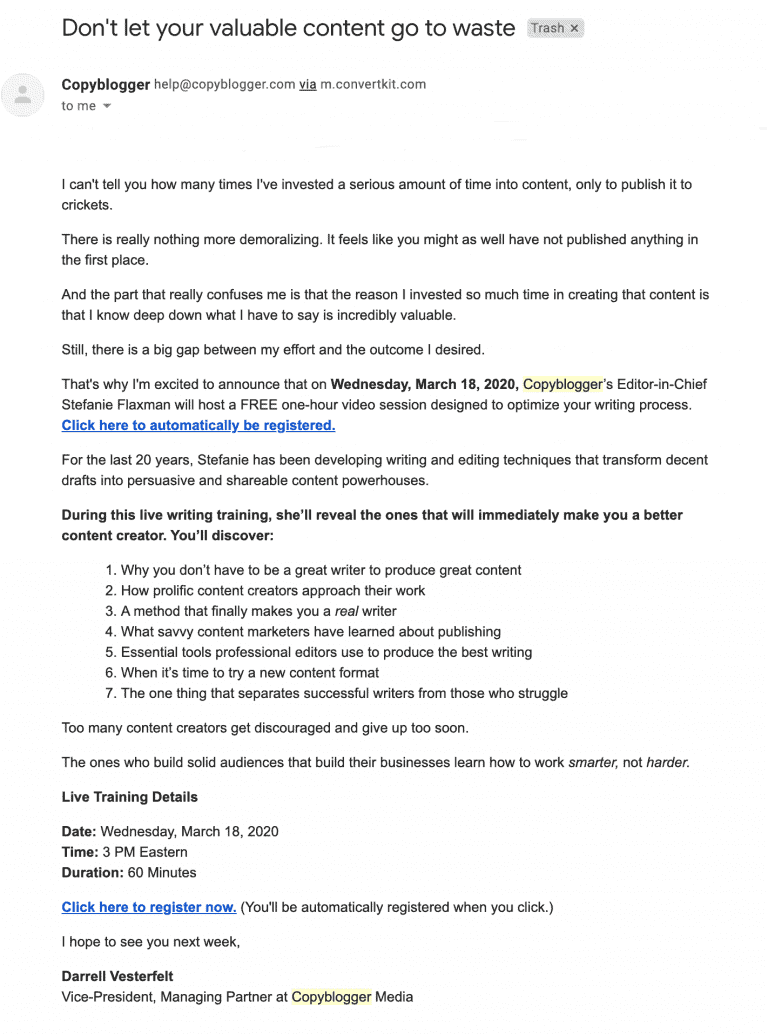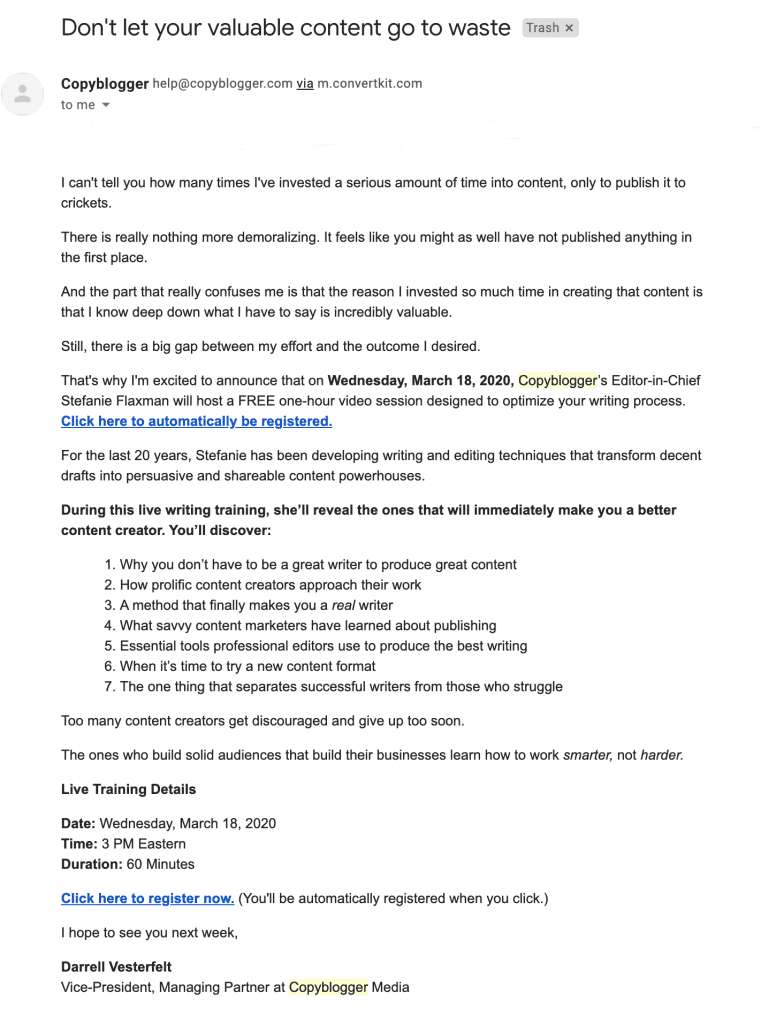 Example: Webinar on-the-day reminder email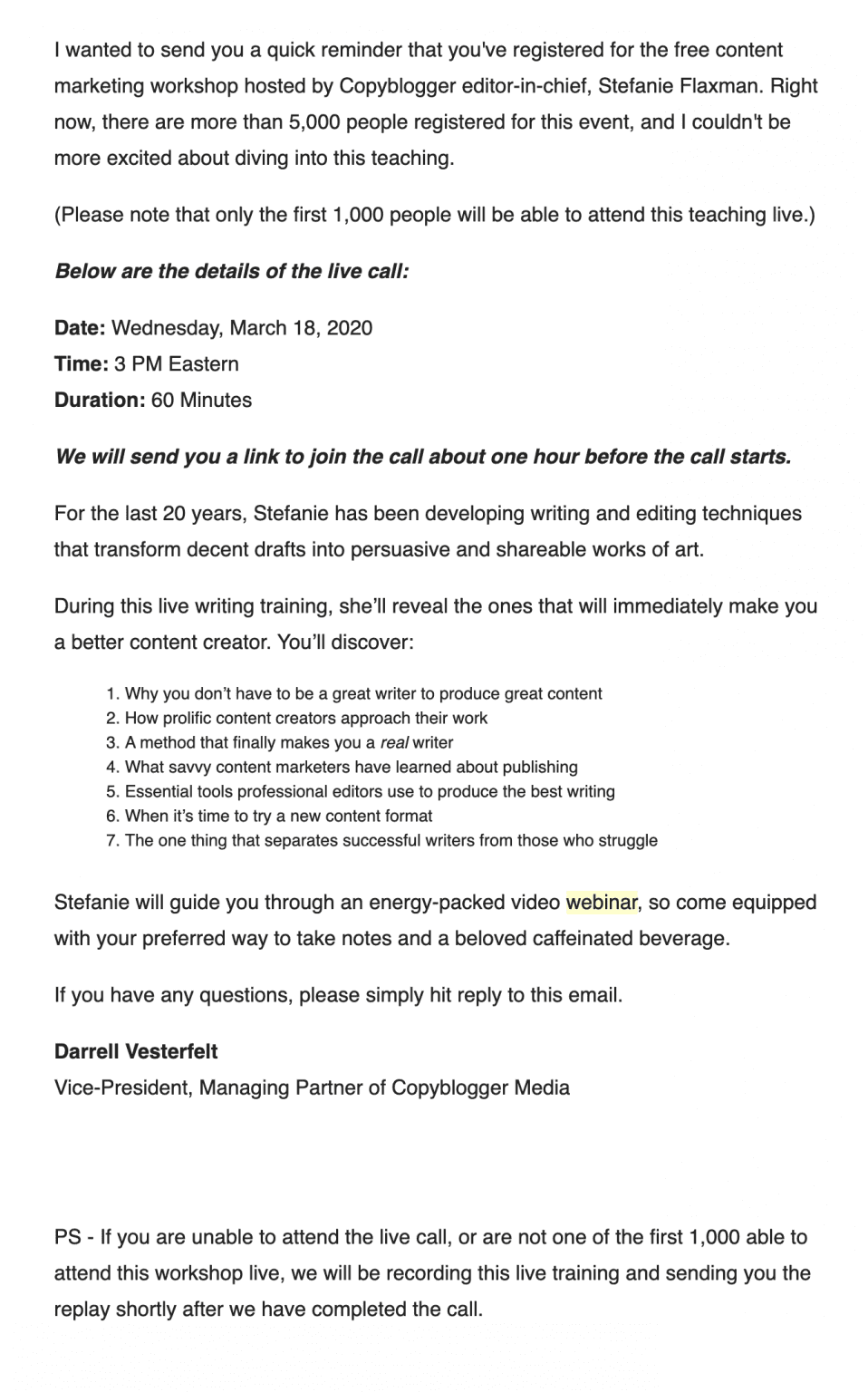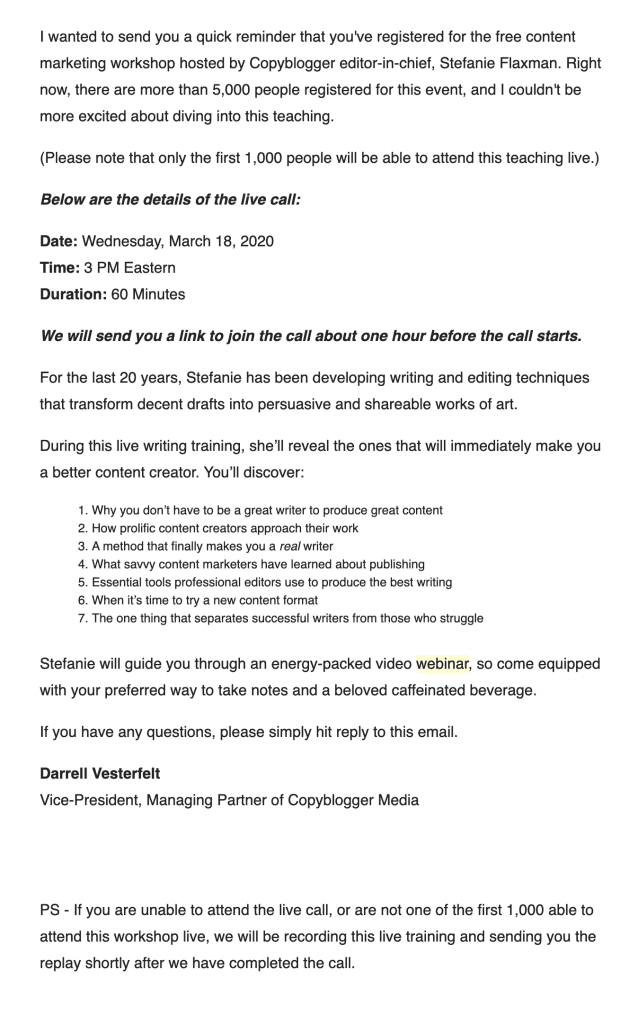 Example: Webinar 1-hour reminder email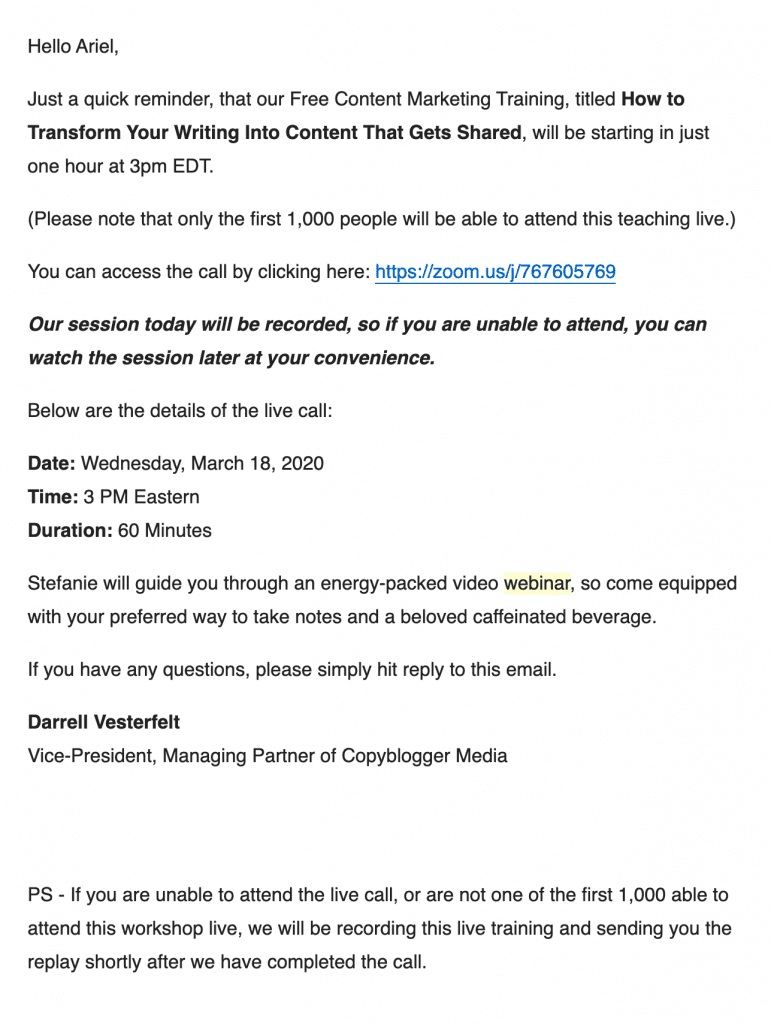 Example: Webinar 15-minute reminder email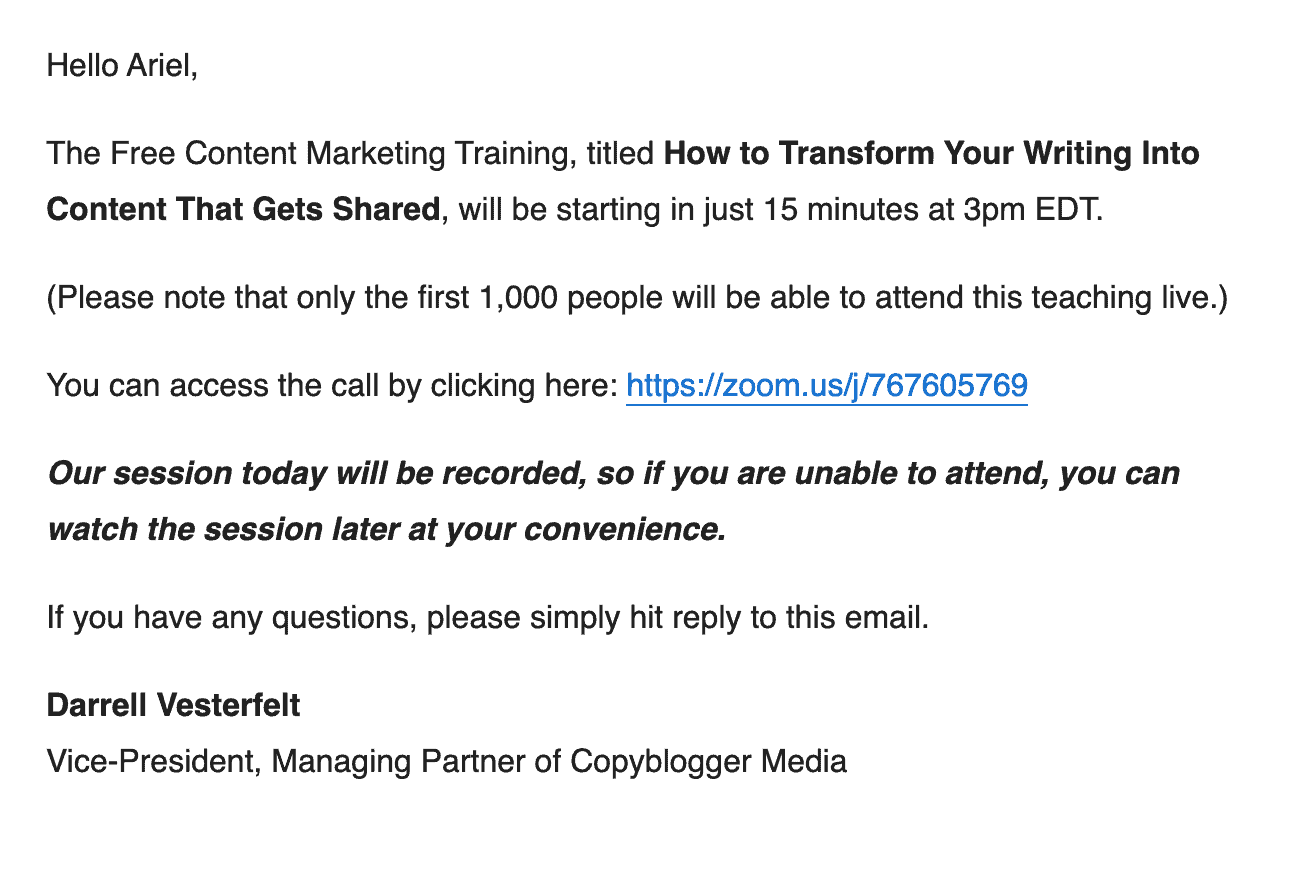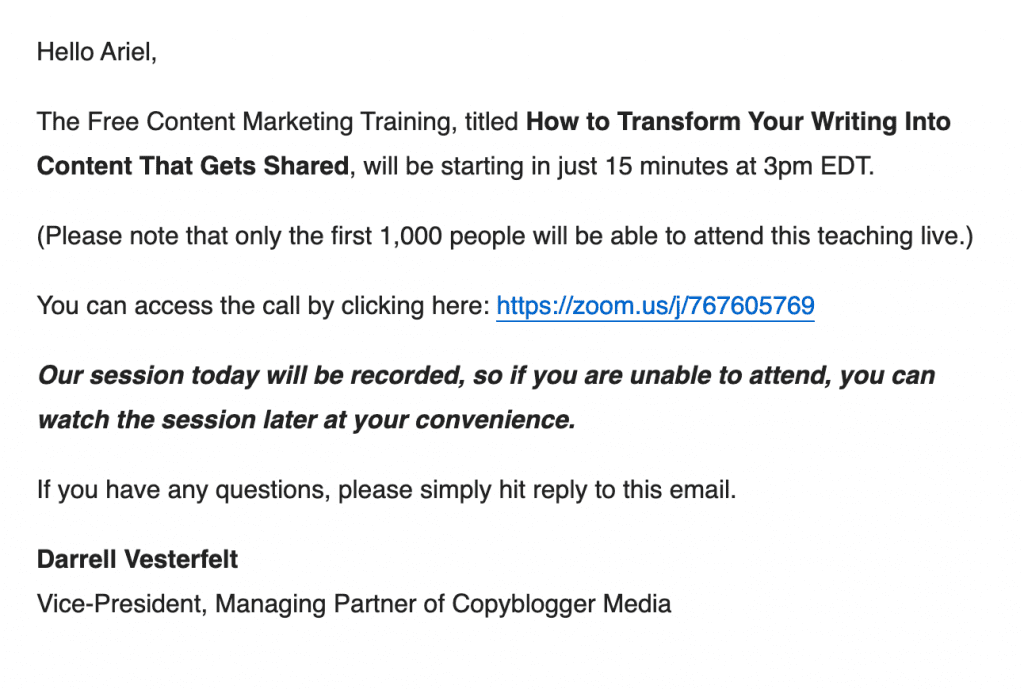 These emails doesn't have to stop here. You can branch out and do more to continue to engage your audience. When you do a webinar, you basically have 3 audiences:
People who registered and attended
People who registered, but didn't attend
People who didn't register
So, depending on those segments, you can create your "here's your replay" email and make it more personalized. For example, to the first group, your messaging can go something like "thanks, here's the replay to the webinar," while the second group, you can say something like "sorry you missed the webinar, here's the replay!"
This will help keep them engaged so they try out your product/service or whatever your offer will be.
5. Dedicated Send
This email is sent to a specific segment in your list about something.
The webinar reminder email I listed above is an example of a series of dedicated send emails.
You can use this for webinars, events, conference attendees, etc.
Here's a great email from Aweber, an email marketing software.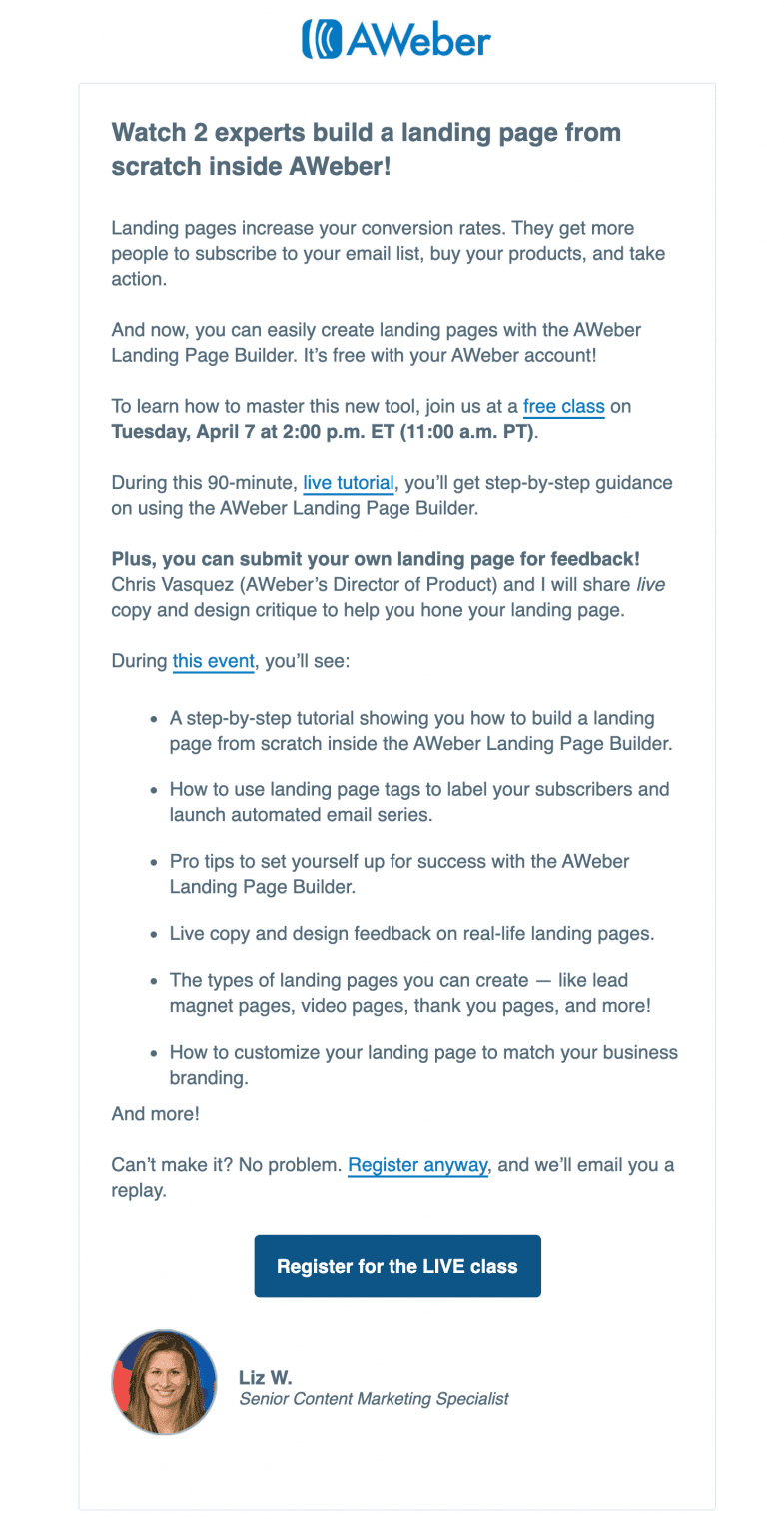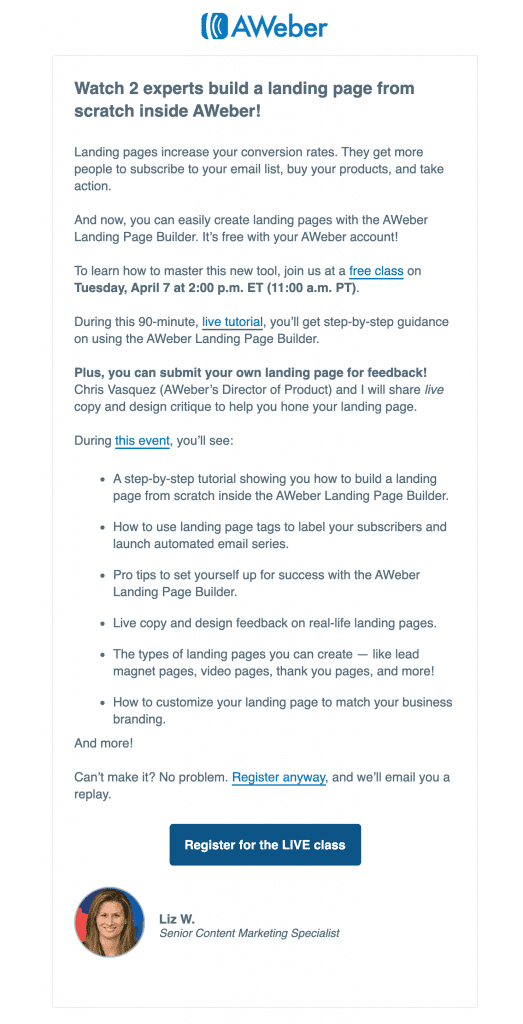 6. Co-marketing Email
This type of email is when two or more organizations send an email promoting the other one to their respective email lists.
Most of the time, the organizers are related and complementary to each other. For example, a marketing agency and a social media scheduler partnering together to promote a webinar they will be hosting together.
Here's an example where MobileMonkey is promoting an SEMRush event to his mailing list.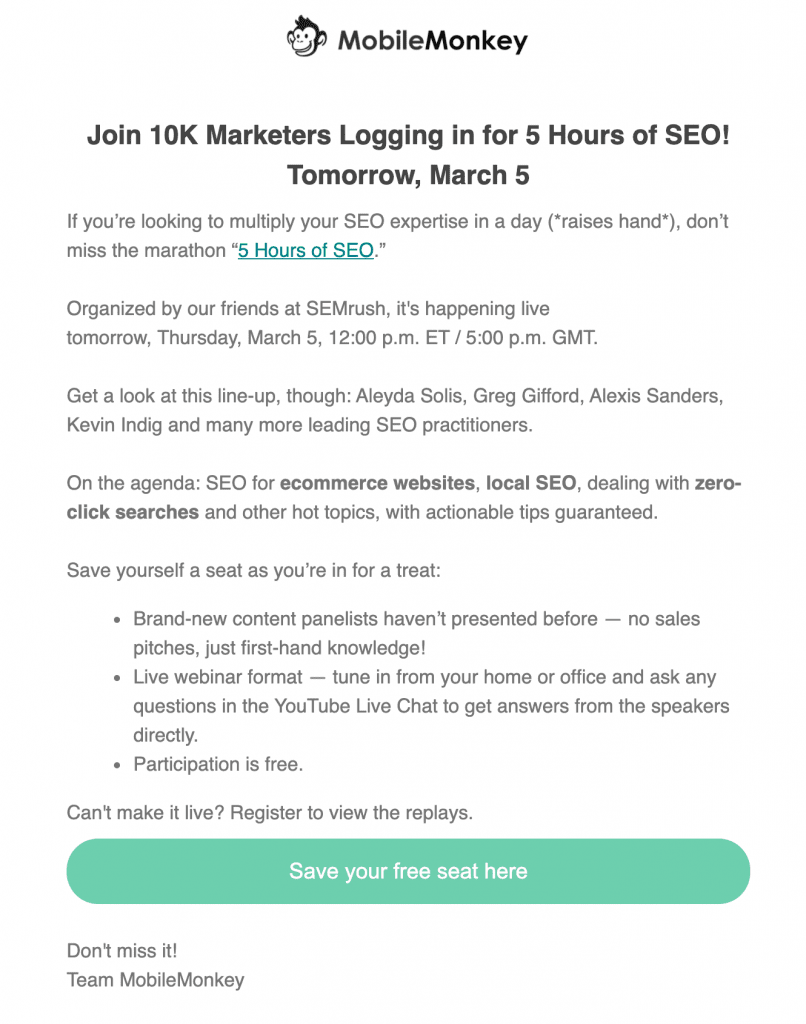 MobileMonkey is a chatbot software while SEMRush is an all-in-one marketing software.
The link above is an affiliate link. At no additional cost to you, I will earn a commission if you decide to make a purchase after clicking through the link.
7. Social Media Send
And speaking of MobileMonkey, this type of "email" isn't exactly an email but it's done inside any social media that allows messaging.
LinkedIn is where this is most likely to occur. You can also put group messaging apps/channels/chatbots here. For example, Facebook Messenger, Viper, Whatsapp, Telegram, and Slack allows you to send broadcast messages.
In a way, it's a one-to-many messaging but uses another platform instead of email.
8. Internal Updates
Email marketing is not limited just your prospects and customers.
Internal update emails are usually used by big organizations for announcements like corporate events, policy changes, etc.
Usually, HR and IT are the groups that send these types of email.
For HR, these are usually new employee hires and promotions
For IT, it's mostly maintenance scheduling and/or cyber security best practices
But don't stop there. It's best to keep everyone updated on what's happening around the organization—quarterly sales, new products lined up, what the executives are working on, etc.
For example, here's a rather-public email from Tim Cook a few years back regarding their $1 trillion milestone.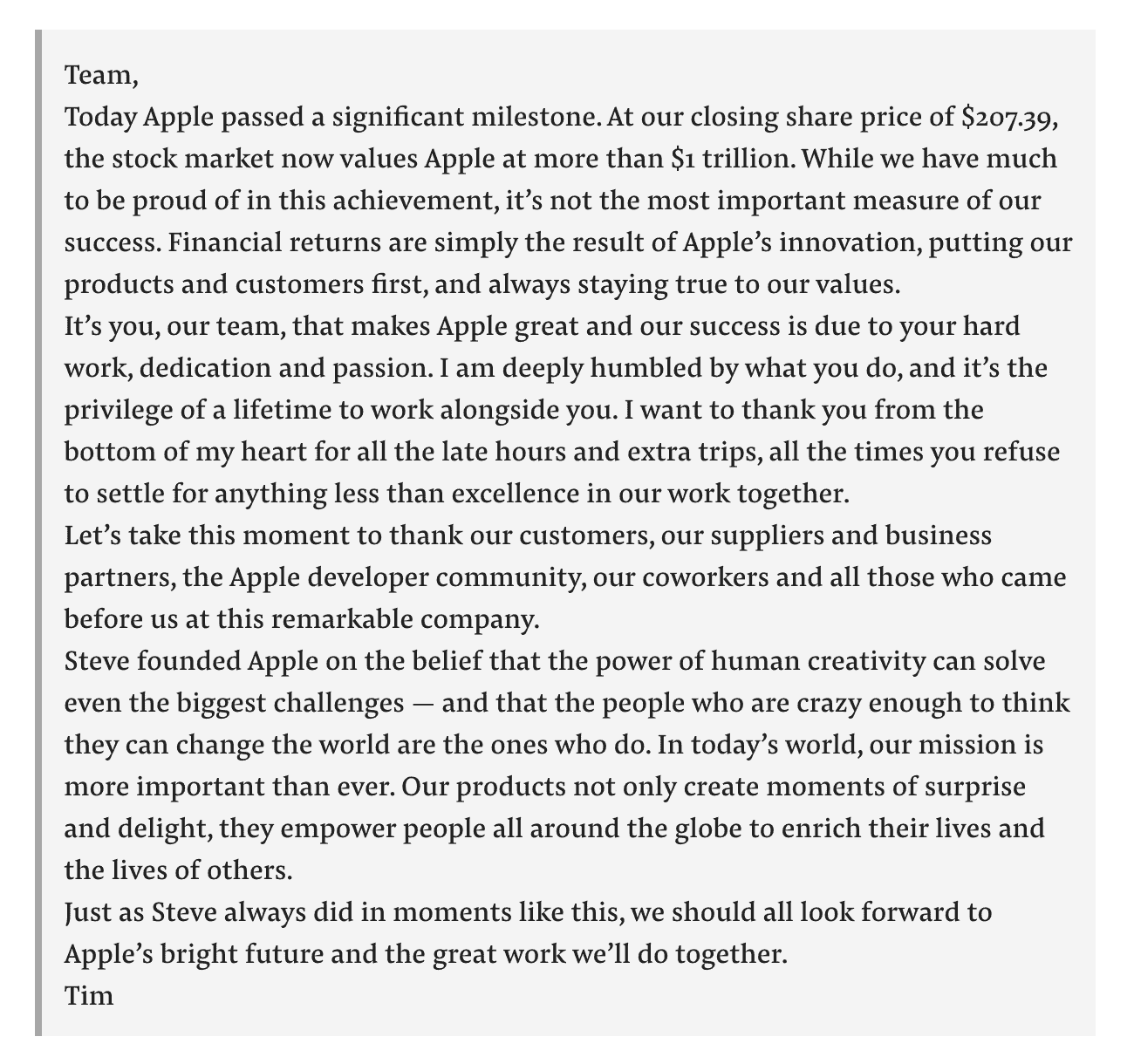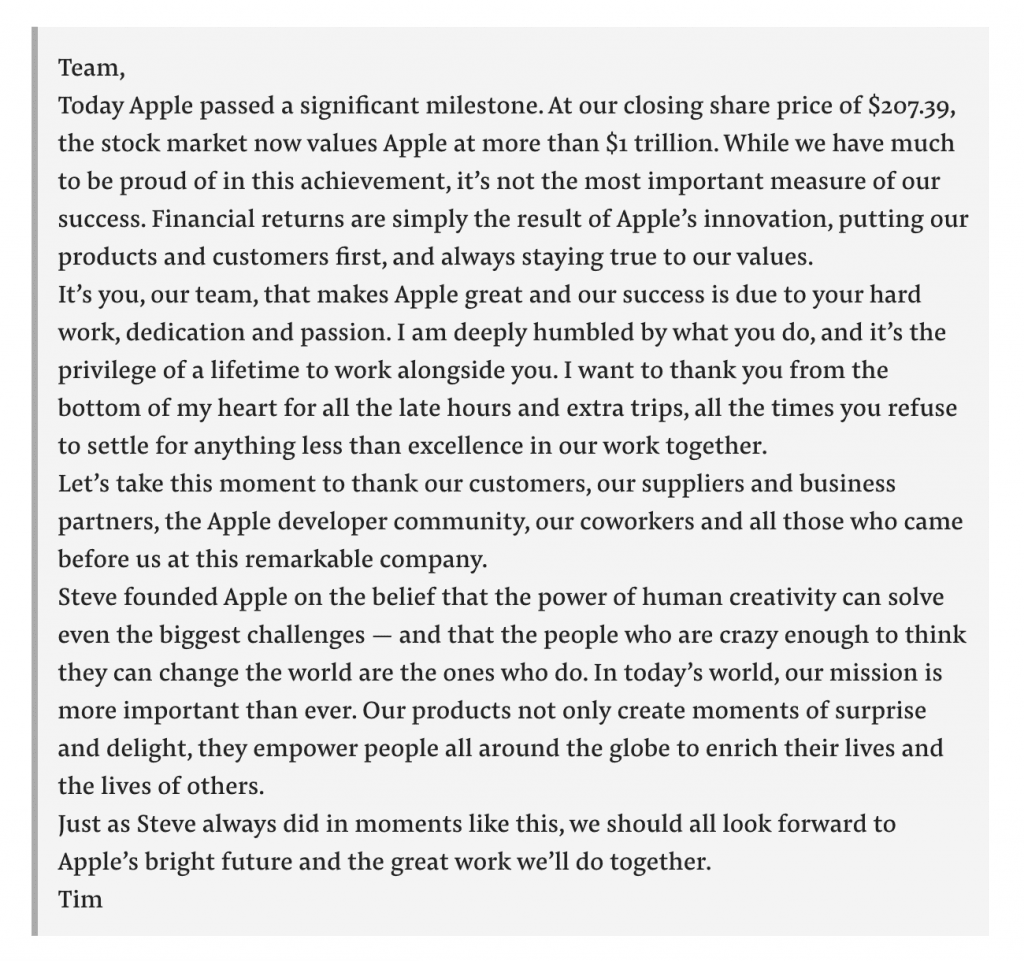 One-to-one Emails
9. Confirmation Email
A confirmation email is a type of one-to-one email that summarizes a conversation and/or activity that the user just made.
If you bought from any e-commerce stores or signed up for a webinar or tradeshow online, you would have received a confirmation email immediately. That's a great use of this transactional email.
Another instance this is used is during customer service chats or tickets. Upon finishing the ticket (assuming you provided your email), it will send you the transcript of the conversation.
Here's an example from NordVPN, one of the most-trusted VPNs out there:


The link above is an affiliate link. At no additional cost to you, I will earn a commission if you decide to make a purchase after clicking through the link.
10. Thank You Email
A thank you email is a type of email that gets sent right after a user action. Most of the time, this is when a person filled out a form on your landing page to access a marketing offer.
Others call this a form submit kickback email or incentive email.
Here's an example from close.com, a CRM software, on a guide I downloaded.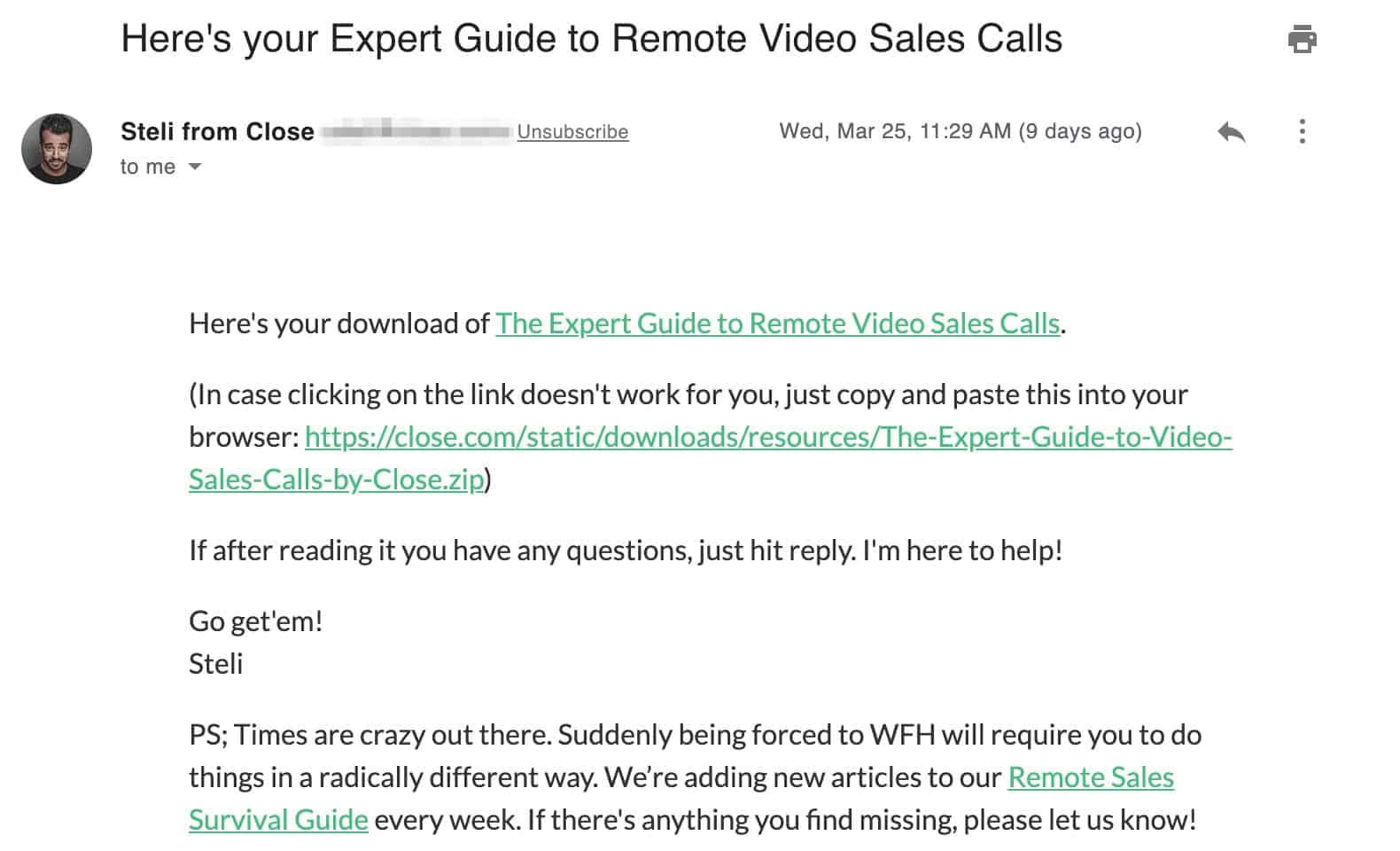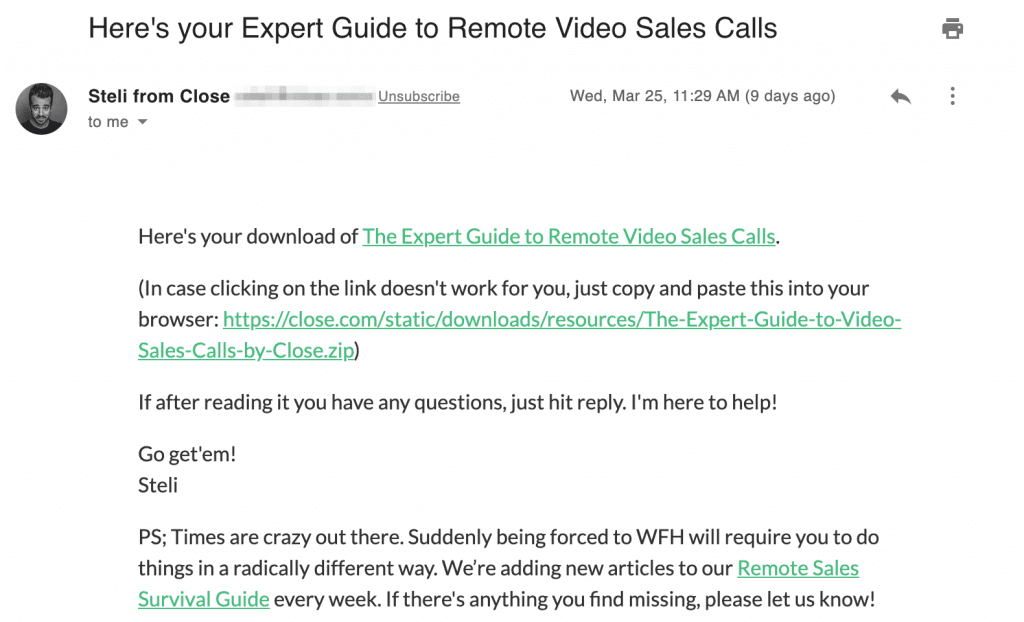 There are two ways you can use thank you emails:
To deliver the promise or your marketing offer; or,
To give additional information about the marketing offer
For example, if you download the white paper I made, you will receive a thank you email that has a link to the thank you page. That page is where you can access the white paper.
If you're hosting a webinar or event, of course, you can't deliver on your promise right away. So, your thank you email should contain information about the webinar or event — date, time, topic, etc.
The confirmation emails are, in a sense, also a form of a thank you email.
11. Welcome Email
A welcome email is exactly what it is— an email (or series of email) that welcomes the new subscriber into the email list or community.
Here's a great example from Skillshare when I signed up for their service before.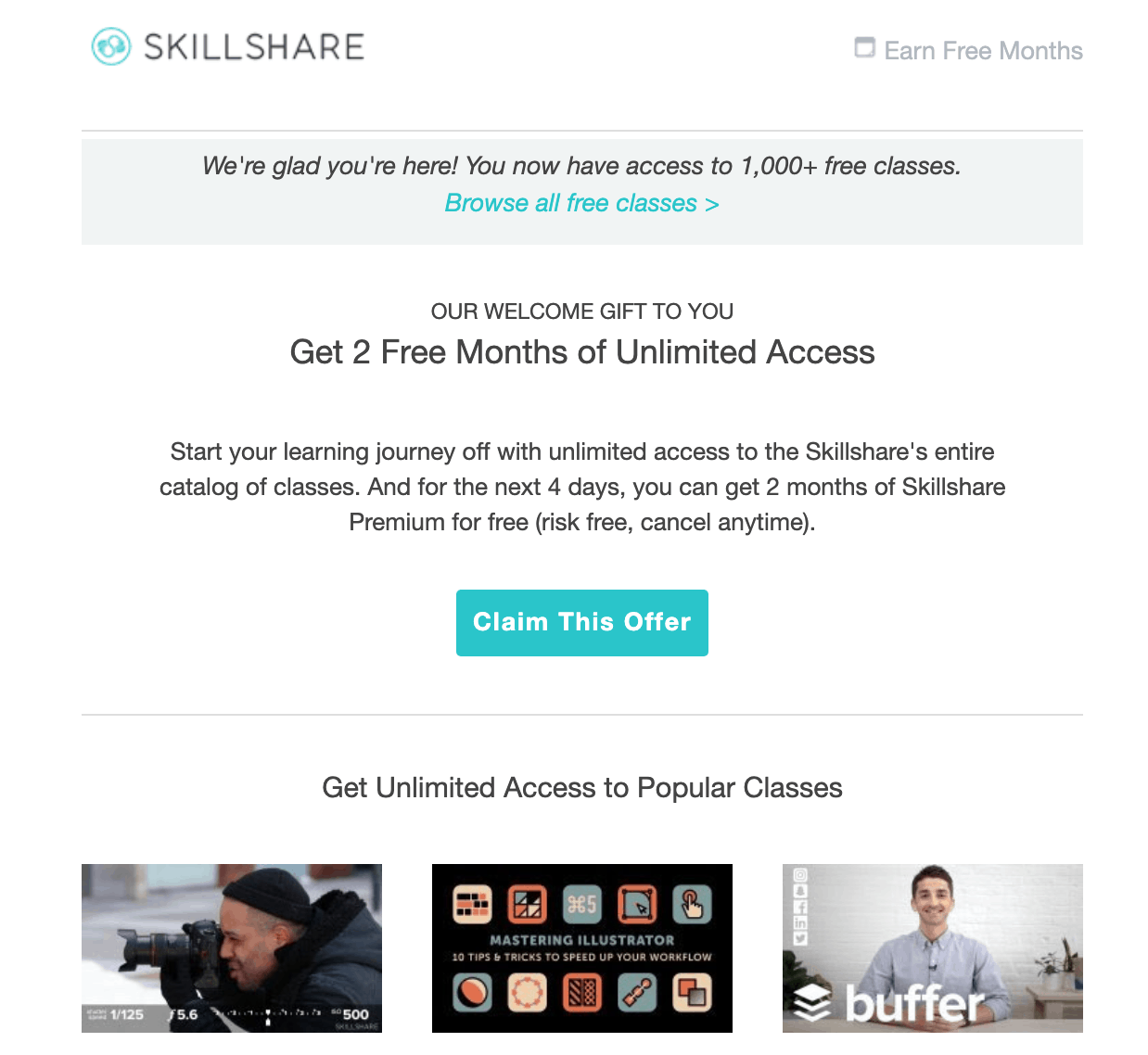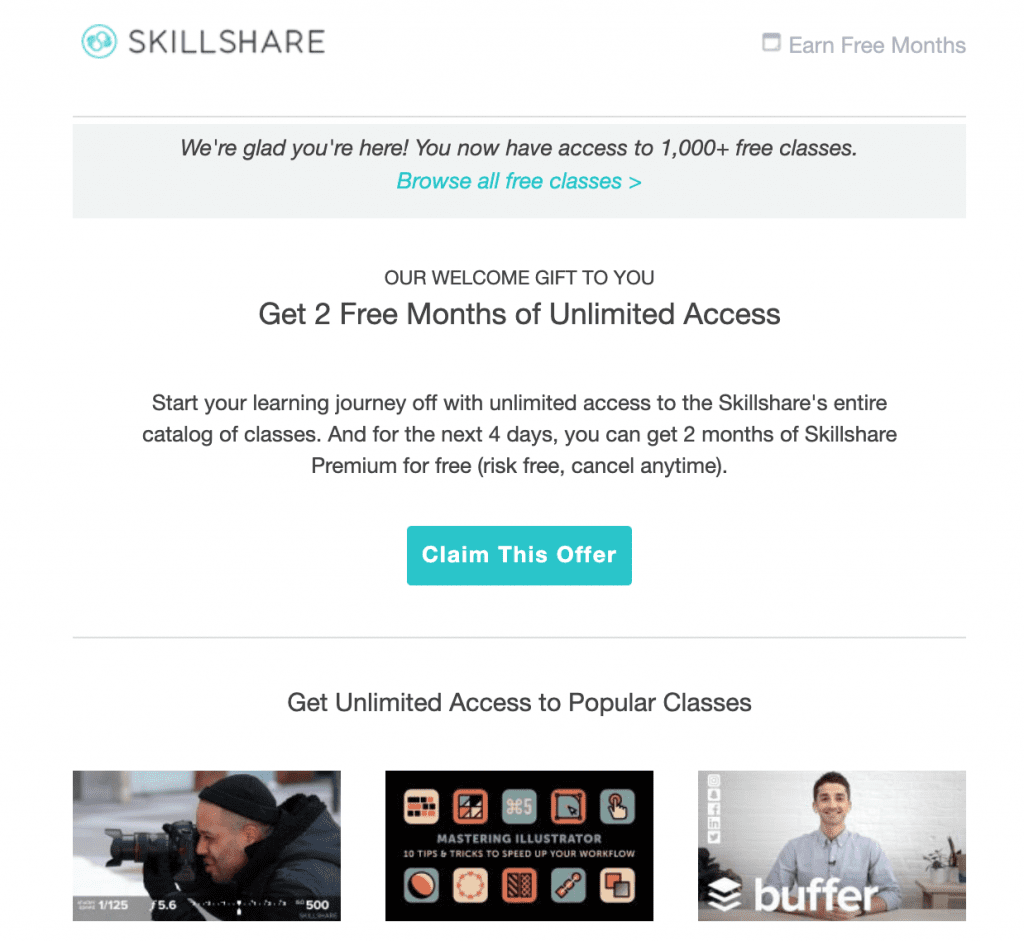 The purpose of the welcome email is to be helpful or give added value. It's not a place to sell.
The Skillshare example fulfills these criteria by being helpful —giving me a free offer — and adding value —they also included a list of their most popular classes.
Take note that this welcome email is for a specific action only. In the example above, it's for signup to skillshare.com.
In your case, you could set up a separate welcome email for new subscribers to your list, new trial sign-ups, etc. (hint: personalization and segmentation)
12. Lead Nurturing Email
Lead nurturing emails are undoubtedly my favorite among these types of marketing email. Why? Because it's so easy to do yet so few do it.
Lead nurture emails are designed to supplement your sales process by providing helpful information at the right time. Here's how you create one from scratch.
If you use some marketing automation tools, you already have access to this. All you need to do is create them.
Think about it this way: your sales process is driven by stages (usually called sales stages or pipeline stages). If you defined what each stage means properly, you'd have identified which information you need at each stage.
For example, if you only have a name and email, they would most likely be only at stage 1 only. But if you know what they want to buy, their budget, and their timeline, they might already be at stage 6 of your sales process.
Lead nurturing emails supplement this sales process by sending these people educational content that will help them decide better (thus, faster) by giving them the information they need even before asking.
I wrote about 3 great examples of lead nurturing campaigns here.
So, What Are You Going to Do Now
Using these 12 examples of email marketing will differentiate you from everyone else.
It's so easy to follow what everyone else is doing. And, because the bar is so low, a simple change will immediately catapult you to the front.
Start applying these different types and you'll immediately see results from them.