Creating content that your target audience will love reading is one of the prerequisites in modern digital marketing. People go through the 5 stages of awareness — and you're probably not even aware of it!
The problem is, content creation doesn't come naturally for most digital marketers.
Why?
Because most courses in college are teaching old school techniques — where the more interruption you create, aka wow factor, the better you are. But that type of marketing doesn't work anymore.
Grow Your Organic Traffic by 110% in Just 5 Months
Download this content marketing case study on how you can grow your organic traffic in just a short amount of time. 
I'm sure you noticed how a lot of organizations are now shifting their spend on more storytelling through articles and videos. Remember the Jollibee and McDonald's commercial series? Or for big international brands, you have the likes of Nike and Adidas who continually show the struggles and perseverance of athletes but never mention their own products.
Then again, those are huge brands with huge budgets.
But what about us working for ourselves? What about the small businesses? How can we start creating content that people will want to read? How do we get started?
5 Stages of Awareness: A Different Perspective
The easiest way to start creating content is to start with your customer's FAQs.
I also shared my workflow earlier this year about getting started with video content in less than 30 minutes.
If you're looking for more ideas on content creation, the next thing you do is to change your perspective — instead of looking inside-out, start looking at your organization from the outside.
I'm sure you already know this — the best perspective to look at your organization is from your customer's eyes. No matter what your industry or product/service offering, your customers go through the different stages of awareness.
Let's take a closer look at the 5 levels of customer awareness. This is another way to look at the buyer's journey.
Stage 1: Unaware
People at this stage are not necessarily in need of anything at this point. Looking at this differently, people are unaware of and don't care about you. They don't know you. And most importantly, people at this stage won't buy from you.
Imagine you are a local pet shop who just opened last week. As you can imagine, there are a lot of people who don't know you: your relatives, your neighbors, and definitely a whole lot of pet parents. They are all part of this group. Obviously, they don't know you so it's practically impossible for them to buy from you at this point.
Stage 2: Pain Aware or Problem Aware
These are people who are aware of their problem but not any solutions.
What that means for our pet shop is this group are those who realized they needed something for their pet. Of course, this can change since the pet store offers a lot of things and there's a lot of challenges a pet parent might have. For example, one day they can suddenly realize they don't have enough dog food. Another day, they might decide on getting a large dog, so that means a different dog food, a bigger harness, etc.
The point remains is that at this stage, they became aware that they have a problem (that is related to what you can solve — in this case — as a pet shop).
Stage 3: Solution Aware
People at this level of awareness know solutions exist for their pain but don't know about yours.
Assume you are the sole distributor of this Super Awesome Dog Food Brand. Obviously, no one else knows about that brand, only you.
People at this stage know they need "food" for their dog. But obviously, there are a whole lot of alternatives out there.
Other dog food brands
Raw meat diet
Human food
Stage 4: Product Aware
People know you offer solutions they may need but they have yet to choose your product.
At this stage, people have narrowed down their options. From our example, since you are carrying the Super Awesome Dog Food Brand, you are inclined to your target audience buying dog food, rather than other the alternatives like feeding raw meat.
But don't forget, within the dog food category, there are still a lot of other options — Pedigree, Royal Canin, Holistic, etc. You're simply one of their options.
Stage 5: Most Aware
Visitors know and trust your brand.
People at this stage are fully aware of you, your brand, and what you have to offer.
Putting It All Together: How the 5 Levels of Customer Awareness Works
Using this framework, you'll immediately notice that there are a lot more people who don't know you and your products.
If you map them out using circles, you'll get an image that looks something like this.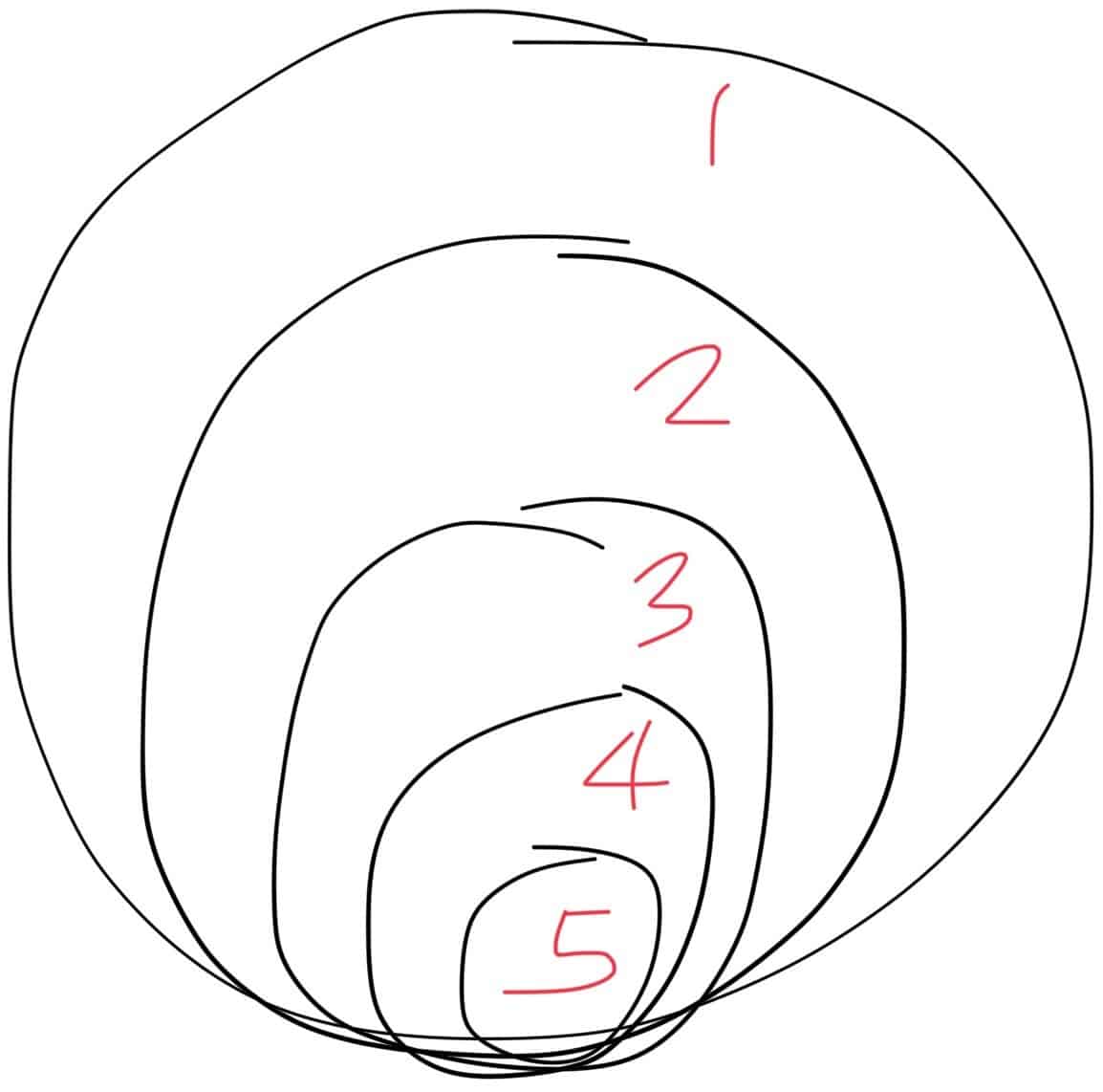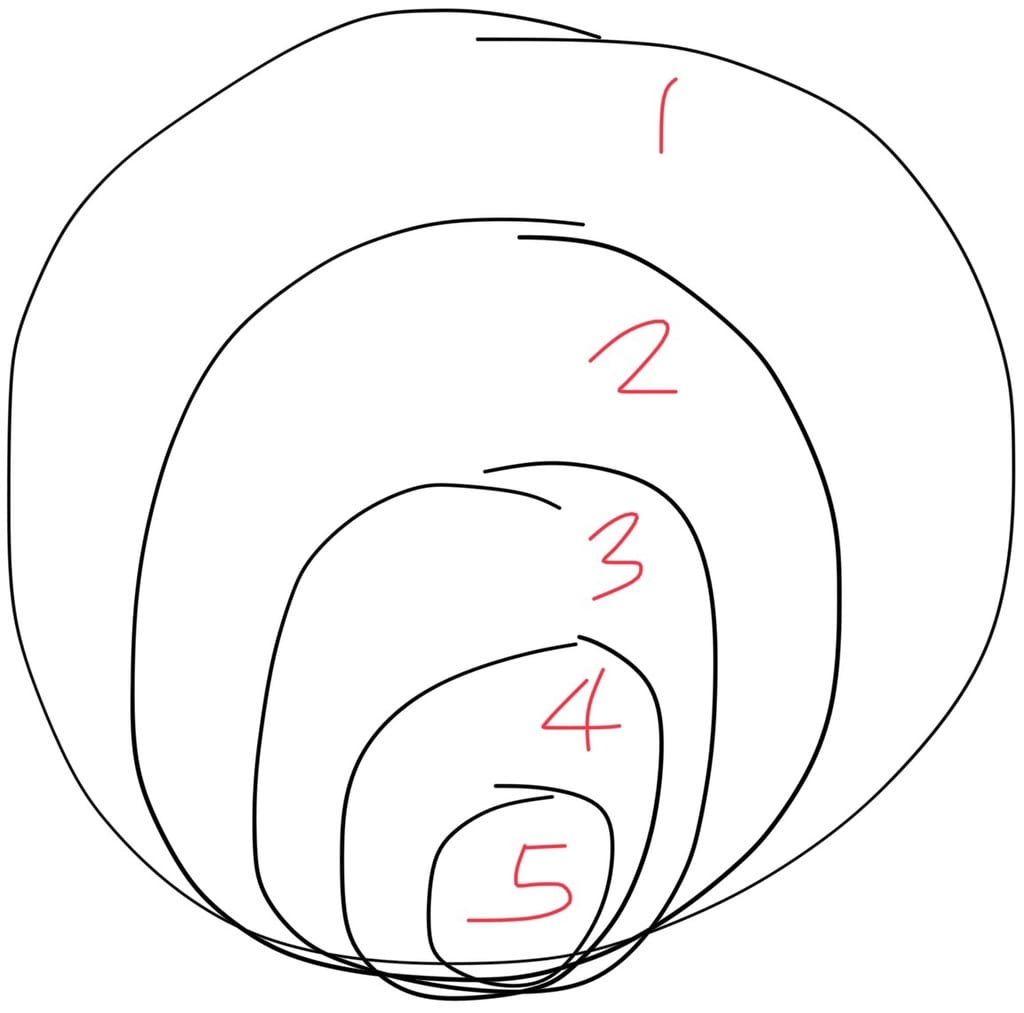 Here's what you learned in this article:
People go through different stages of awareness.

Stage 1 refers to people who don't know anything about you
Stage 2 refers to people who became aware of their problems/needs/challenges that you can solve with your products/services
Stage 3 refers to people who became aware of potential solutions to their problems/needs/challenges but haven't chosen on a particular one yet
Stage 4 refers to people who have narrowed down their options to a specific category/option to solve their problems/needs/challenges.
Stage 5 refers to people who know you and trust you.

There are specific content that is more effective at certain stages.
Grow Your Organic Traffic by 110% in Just 5 Months
Download this content marketing case study on how you can grow your organic traffic in just a short amount of time. 
So, what are you going to do next
If you're having a hard time creating content for your organization, you're probably looking at your market too narrowly.
For example, you might only be focused on creating content ABOUT your product (Stage 4). You're missing out on stages 1 to 3 — with each circle representing a bigger audience than the previous one.
What types of content can you create to attract those who don't know you?
What can you share with people who are exploring their options related to what you're selling?
How do you develop trust with these people?
These are the questions you should be asking yourself.
Another application of the stages of awareness is fine-tuning the messaging and targeting of your campaigns. For example, when you use a stage 4 or stage 5 content to target people who are at stage 1, don't expect that campaign to meet your objectives.
Both content and context aren't aligned.
I'll share more examples about this in future posts. In the meantime, let me know in the comments what you think. Are you focused on creating stage 4 and stage 5 content? How can you think differently about creating stage 1-3 content? Are you using bottom-of-the-funnel content to target top-of-the-funnel audiences?