2020 was a blur.
Plans have gone out the window and forced a lot of people out of their comfort zones.
As I mentioned in my email list, I'm in the 2021 planning mode. The plans I made last year helped me navigate 2020.
Looking back, I probably stuck to my plan only around 20%. The rest just went down the drain.
And that's okay.
If I didn't write down what I set to accomplish, I know I would have just sulked and stay complacent when the pandemic hit.
But since I know I have some targets to reach, I scrapped the "how" in my plans with new ones to adapt to the current situation.
And that's the importance of planning. It helps you keep on track no matter what happens. But more importantly, remember that it's also okay to abandon your plans to adapt to what's happening right now.
With that, here are a few things I'm doing and why.
Website Refresh (and Speed Improvements)
One of the first things I did was migrated my website to a new theme and cleaned it up a bit.
So if you've been here before and you're seeing a couple of changes, I'd love to know what you think.
I'm not a fan of website redesigns (or rebranding as what other gurus use) just for the sake of it. There has to be some tangible goals to prove the ROI of the redesign.
The easiest way to do this is A/B test your homepage or several key pages to see whether metrics actually improve. You can start with simple ones like improving bounce rates or a more meaningful one which is to increase conversions.
In my case, that's faster site speed. Why? Because of the core web vitals. Google announced that next year, page speed will be more important than ever. So use this time to prepare your website and improve overall user experience. Otherwise, you won't have a chance ranking.
Here's a before and after results via GTmetrix on one of my most visited page: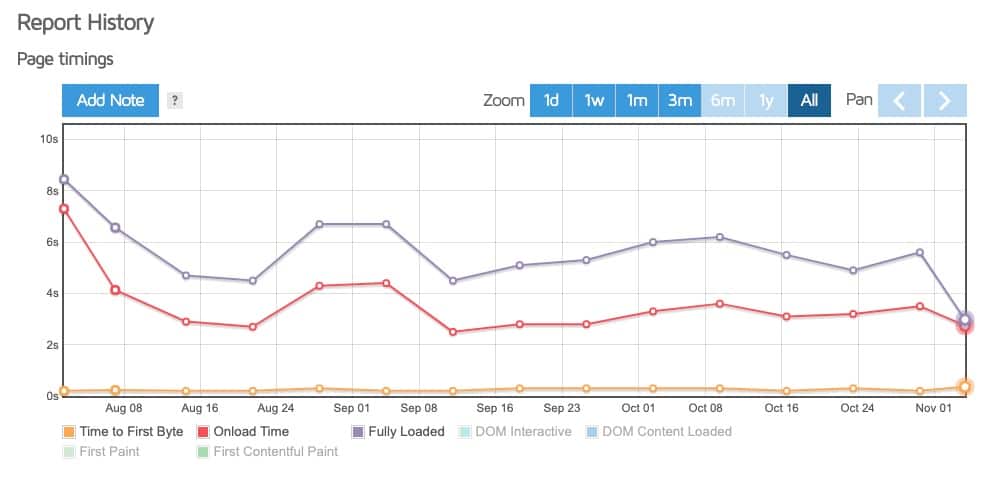 Take a look at the purple line—fully loaded time. It was averaging ~5 seconds, but after the migration, the page is now fully loading in about 3 seconds, which is where you want to be.
Last year, I also did a refresh on my site which also helped me improve my site speed. This consequently helped me beat my entire 2019 website traffic in just 100 days.
Here's another report for the same page:

Improving Conversion Rates
Around June this year, I tried out a new strategy in the hopes of improving my conversion rates.
The result? 150% growth in 4 months!


While it's not drastic in terms of absolute numbers, I wouldn't have grown my list. See that starting point (A)? That was when I migrated from MailChimp to ConvertKit.
But as you can see, that number was measly. And it took me 5 years to get to that. Then, in just 4 months (B), I was able to grow that by 150%.
I wrote about it here the day after I finished implementing the strategies.
Unfortunately, I wasn't able to setup my tracking code properly until recently. So the only numbers I can get are the absolute numbers like what I shared above.
I'll have more in the next few months, but so far, it's doing pretty good.


Stop Making the Same Mistakes Again
Don't you get tired of making the same mistakes over and over?
I know I am.
That's why in my own business, I started my own playbook.
I document everything I do so I don't have to think about it again the next time I do it. This includes a mix of things I frequently do (like for my website or client work) and the less frequent ones (like filing taxes).
In the short-term, this helps me do my work without having to "think" about it too much. I simply follow the steps until I complete the checklist.
In the long-term, I can simply hand this over to an assistant or a new team member. Then, they will be able to immediately do the work at a high level of quality.
And if you haven't already, this is the easiest and most cost-effective way to increase your profitability.
Reduce Admin Work
Another big project I have on my list is to reduce my administrative work altogether.
The answer—automation.
I've ben using IFTTT and Zapier for a long time but haven't really taken advantage of it. But now, I'm slowly moving a few of my redundant tasks there.
One of the tasks I just moved over is the sharing of new posts I publish here. Another one is sharing other content that I think you (and my followers) would be interested in, also known as content curation.
One of my proudest automation was when I delved into videos. I described the process here.
Always Move Forward
I'm an advocate of plans. But I've realized that plans (and ideas) don't mean anything until they get out into the market.
Back when I started my first corporate job, I received a feedback from my manager about planning too much. Of course, being young and stupid, I pushed back at that time.
I justified planning and why it has to be that way.
Now as I'm writing this I'm chuckling and thinking how stupid I was.
I've now realized that lousy implementation is always better than perfect plans.
Case in point, no matter how much planning you did for 2020, I'm 100% sure you didn't take into account a global pandemic.
So no matter how perfect your plan is, unless you make progress in the market and execute, you won't see any results.
And that best way to do that is to chip away at your goals. You don't complete a project or meet a goal in one fell swoop. You don't reach your sales quotas. You do it one small step at a time. You close one client. Then another. And another.
The same holds true for everything.
Whether you're trying to read 50 books a year or learning a new language; whether you're looking to grow your annual revenues or increasing brand recognition —you do it one small step at a time.
Here's a quick and dirty for how to do that:
Set a deadline to reach your goal or completion of a project
Divide the time you have in three
Spend the first 1/3 for planning and the 2/3 for doing
Let's say you have a deadline to finish an email marketing campaign. It's supposed to go live in a month.
Days 1-10, you use it for gathering info, getting all your messaging ready, how you'll track and automate it, etc.
Days 11-30, you start executing. Design your template in the actual system, create and add the creatives, send test emails, and many more.
That's how you move forward and avoid getting stuck.
And this is how you can survive the post-pandemic world.
Over to You
In just a few more weeks, 2020 will be over.
The pandemic will most likely still be with us. But that doesn't mean our world has to stop.
Take a few hours to plan what 2021 looks like for you. List down what you want to achieve—both professionally and personally.
Set concrete targets.
As long as they are a number (i.e. measurable), then that's a good start.
Have you started planning for 2021? Or are you having trouble making one? Either way, let me know in the comments below.